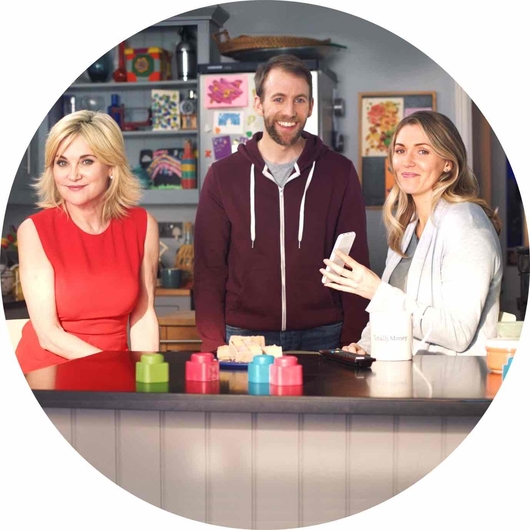 BETTER CREDIT FOR LIFE
GET YOUR FREE CREDIT SCORE & REPORT.
Everything you need to get your credit history on track, unlock your Borrowing Power and learn how to improve your credit score
SIGN ME UP
No credit card details needed. No harm to your credit rating.
Best Credit Report Provider 2018
Fintech Category | Moneynet.co.uk Awards
---
FREE CREDIT REPORT
Check your details
It's simple to make sure your personal data is correct and fix any mistakes that could be holding you back.
Best Credit Report Provider 2018/19
Moneynet.co.uk Awards
Get my Free Credit Report
---
LIVE CREDIT SCORE
Improve your score
Learn why your credit score has changed. Always up to date, every time you log in.
See my Live Credit Score
---
BORROWING POWER
Find your best credit offers
Borrowing Power shows you how likely you are to get the credit you're looking for, and sorts your best offers.
EXCLUSIVE
See my Borrowing Power
---
TIMELY UPDATES
Stay one step ahead
Get personalised notifications about changes in your Credit Score, Credit Report and Borrowing Power each month.
PLUS
Find out about deals and exclusive products matched to your Borrowing Power.

Learn how to improve your credit score and keep on top of your finances with our team of experts.
What is Borrowing Power?
Borrowing Power is a unique measure of your ability to get credit. You'll find out what lenders really think of you and discover the offers you are most likely to get. Here's how it works.
Check My Borrowing Power
Helping more than a million customers
97% of customers would recommend using TotallyMoney to improve your credit score.*
"Helped me get a better credit rating after my divorce, useful tips and guides."
John Hassall
"Really handy to keep an eye on my credit rating and know what products are available to me."
Damien McLaughlin
"Have always found TotallyMoney to be honest and unbiased. Everything is clearly explained in plain English."
Eirlys Goode
"They recommended a new credit card with 0% transfer for 18 months which has saved me money!"
Tony
* Based on a survey of 958 TotallyMoney credit report customers
Get the free app on your phone
Download the free TotallyMoney app and you'll always have your credit report and Borrowing Power at your fingertips. Literally.
Guides and know-how
Everything you need to know to improve your score, and make smart borrowing decisions.
Compare the best offers
View the best credit cards, loans, and mortgages for you.
FIND CREDIT CARDS
Compare the leading cards and see which you are most likely to get.
See all cards
CHECK LOANS
Find out which loans you qualify for without affecting your credit rating.
See all loans
SEE MORTGAGES
We list mortgages and broker-exclusive products from over 40 of the top lenders.
See all mortgages